Gallery
103P on 2010-09-13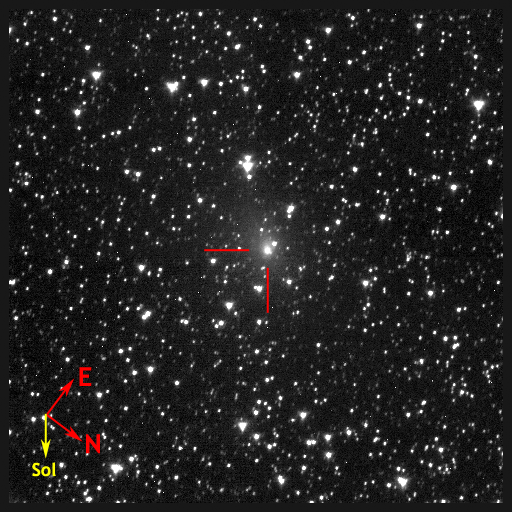 Caption: This EPOXI mission image of comet 103P/Hartley 2 was taken 52 days from Encounter (E-52d) using the Medium Resolution Instrument (MRI) and a clear filter. Science Team member Dr. Dennis Wellnitz combined seven successive one-minute exposures to make this single image. The mid-exposure time was 2010/09/13 13:34:10 UTC. Based on some very preliminary photometry, the comet is roughly 50% brighter than in the image taken last week.

The comet was 1.22 AU from the Sun and 0.35 AU (52.4 million km) from the spacecraft. The Sun is straight "down" from the comet and celestial north is to the lower right.
Technical Details
Image Parameter
Details
Spacecraft:
Deep Impact Flyby
Instrument:
Medium Resolution Instrument (MRI)
Mid-exposure Date/Time (UTC):
2010/09/13 13:34:10
Filter:
Clear
Exposure:
7 x 60 sec
Pointing:
RA 21h 14' 35"
Dec +36° 00' 26"
Field of View:
approximately 268,000 km at the comet
Solar Elongation:
125°
Solar Phase Angle:
41°
Sun-Comet distance (r):
1.2225 AU (183 million km)
DIF-Comet distance:
0.3503 AU (52 million km)
Table 1: Data about image.
Additional Images:
Credit: NASA/JPL-Caltech/UMD
103P spectra, lightcurves...
103P on...