Outreach
Outreach Reports
Comet Encounter Conference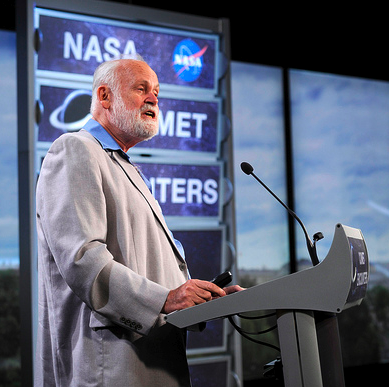 Dr. Mike A'Hearn, UMD, talks about the Deep Impact and EPOXI missions. Credit: NASA
A short half-day program held at the Newseum in Washington, DC, on Friday 10 September 2010 to "commemorate a quarter-century of comet discoveries and discuss upcoming comet encounters." Dr. Mike A'Hearn, PI of the EPOXI Mission, gave an overview of the upcoming comet encounter. The event was broadcast on NASA TV.
The Students of Breakthrough Collaborative Kent Denver
Last month, you read about Breakthrough Collaborative Kent Denver teachers bringing comets to their summer science program via Discovery Program missions EPOXI and Stardust-NExT. Kids investigated comet composition and modeled their elliptical orbits around the Sun, tails gleaming behind them.
The yellow Denver Public School busses arrive stuffed with kids. Every morning - every single morning - the teachers are waiting: cheering, calling out names, creating a welcoming corridor of high fives and hugs for these at-risk Denver middle schoolers to start their summer program with a rush. The program statistics are impressive. Since 2001, 94% of Breakthrough students graduated from high school, as compared to Denver Public Schools' average of around 50%; 83% are pursuing post-secondary education.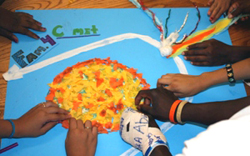 Students with a hand on a model of a comet orbit. Credit: McREL
What makes the difference for these kids? "It's exciting! It's fun! It's hard work, but learning is cool!" Students are taught in small classes by energetic young teachers themselves in high school and college. One teacher noted: "While we are always looking for motivating activities to help learning rock and roll, like our Week of the Comet unit, we never tell them it will be easy. We do tell them, over and over, the work is worth the effort - they are worth the effort." A student at the final celebration speaks: "Thanks to Breakthrough, now I will be somebody. I am somebody!"
Remember that cheerful gauntlet students ran through at the beginning of the day? Picture it again - but this time the kids are on their way home. Teachers and students alike are tired and reflecting on a day that may have had lows as well as highs. Learning is challenging. The community spent a large chunk of the morning in the hot sun traipsing through a scale model of the solar system in which their teachers had taken on the roles of solar system bodies: planets and comets and asteroids and dwarf planets. "It was real interesting, but there seems like a lot more for me to understand," one girl confides.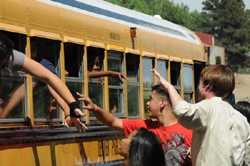 Students and teachers saying goodbye at the end of the day. Credit: McREL
The teachers rally all around the busses with one last burst of energy. Everyone cheers and waves and high fives. "Great job, today!" "Remember your assignment - call me if you're confused!" "You did great!" "See you tomorrow!" "Bye-bye - see you tomorrow!"
Two kids hang out the bus window as it begins to pull out, hair streaming, grins wide: "We're comets!"
14-15 Aug 2010: Ft. Lauderdale Museum of Discovery and Science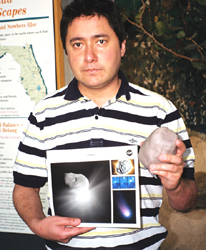 One visitor shows off a copy of the Comet lithograph in one hand and a model of comet Tempel 1 in the other that were used to teach museum visitors about various comet missions. Credit: Jim Stryder, SFAAA
The South Florida Amateur Astronomers Association (SFAAA), conducted telescope clinics, solar viewing, and provided information on current (NASA) missions related to space/space science and astronomy in support of the Fort Lauderdale Museum of Discovery and Science's opening of the IMAX show Hubble 3-D. Hundreds were in attendance both days (14-15 Aug), many of them from international destinations (tourists) to South Florida.

Many visitors learned for the very first time that the NASA mission Deep Impact not only flew past comet Tempel 1, but also impacted its surface to study cometary make-up. And that the same spacecraft is getting ready for another cometary flyby in November this year. Participants learned about comets and their role in our solar system, how they might hold clues to the formation of our Solar System, and what a comet's core or "nucleus" looks like!
Comets Fly-By Breakthrough Collaborative Kent Denver!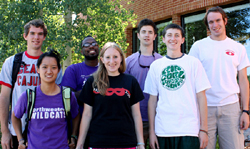 Some of Breakthrough Kent Denver's science teachers, 2010.
Credit: McREL
Inspired by EPOXI and Stardust-NExT's signature activities, Comet on a Stick and Extreme Navigation, 175 students who are part of this year's Breakthrough Collaborative program centered at Kent Denver School in Denver, Colorado, learned about the solar system, with comets as the natural stars. Who taught them? A collection of talented college students dedicated to offering a rich summer program.
Breakthrough is a national program that offers high potential, at-risk urban middle schoolers an academic boost to ensure they complete high school and move onto college. Students commit to a three year summer enrichment program backed by Saturday academies throughout the school year that help kids develop background knowledge and skills and sustain motivation.
The linchpin to success? Breakthrough lures talented college students interested in education to work with these kids. If you've ever hung out in a middle school (we all did at one point, right?), you know the phenomenal energy bursting from those students. At Breakthrough Kent Denver, it is met by the enthusiasm, originality and dedication of these young, aspiring teachers.
Starting with professional development offered by EPOXI and Stardust-NExT Education and Public Outreach teams' Whitney Cobb from McREL in June and July, the teachers worked to develop comet background knowledge and familiarity with the activities that highlight them. Once they met their students and had a better understanding of how they learned best, teachers strategized ways of offering context effectively to their students. This included creating a scale model of the solar system along the length of two end-to-end soccer fields scattered with middle schoolers, with Tempel 1, Hartley 2 and Halley's comets zooming in their elliptical orbits!
Next month read about comets flying by Breakthrough Kent Denver from the students' perspective!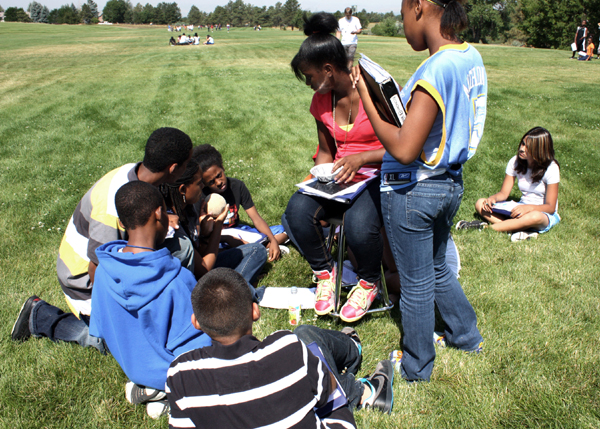 Kailah, third from left, orients her students to the inner solar system and short period comets.
Credit: McREL
15-16 May 2010: JPL Open House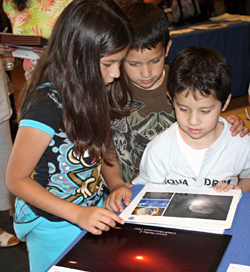 Young guests visit the EPOXI booth to learn about comets.
Credit: Judy Counley, McREL
Record Attendance at 2010 JPL Open House
Nearly 40,000 people attended the popular 2010 JPL Open House event in Pasadena, California celebrating JPL's accomplishments with hands-on activities, exhibits and demonstrations about the Laboratory's ongoing research and space exploration. On special display was the JPL-built Wide Field and Planetary Camera 2, retrieved from NASA's Hubble Space Telescope last year by space-walking astronauts. Other Open House highlights included: seeing JPL's next spacecraft bound for Mars, Mars Science Laboratory, under construction in the lab's largest "clean room;" life-size rover models in a "Mars" test bed; and JPL's Microdevices Lab, where engineers and scientists use tiny technology to revolutionize space exploration. Visitors were also able to see the sun through solar-safe telescopes, and learn how NASA instruments help scientists better understand global climate change. Many of the Lab's scientists and engineers were on hand this year to answer questions about how spacecraft are sent to other planets, how scientists utilize space technologies to explore Earth and how researchers are searching for planets beyond the solar system.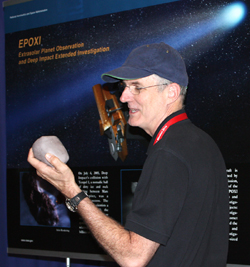 Steve Wissler describes how EPOXI will encounter comet Hartley 2.
Credit: Judy Counley, McREL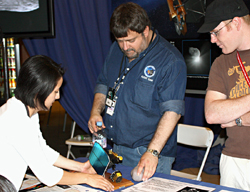 Greg LaBorde describes how the spacecraft was used on the original Deep Impact mission as Rich Rieber (right) looks on.
Credit: Judy Counley, McREL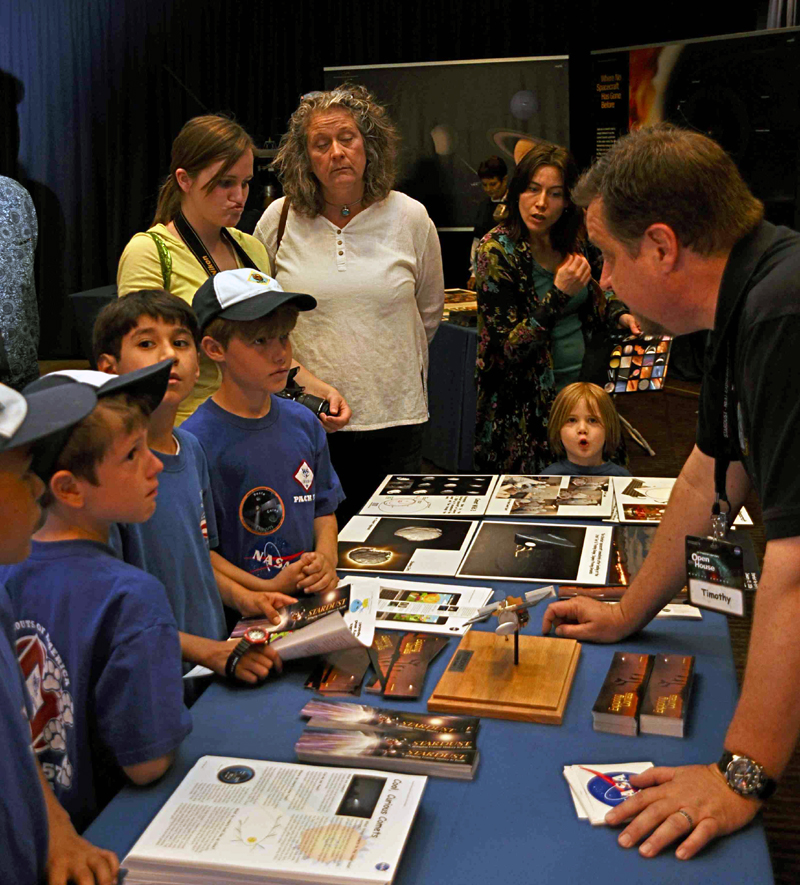 Project Manager Tim Larson talks with future scientists about what comets are made of and where they originate.
Credit: Aimee Meyer, JPL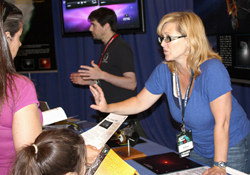 Aimee Meyer talks with guests about how EPOXI and Stardust-NExT are repurposed spacecraft. Jeff Pinner (background) also talks about the missions.
Credit: Judy Counley, McREL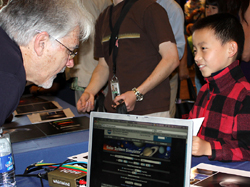 Don Sweetnam, Deputy Project Manager, uses the JPL Mission Simulation interactive to show visitors what to expect on encounter day.
Credit: Judy Counley, McREL
13 May 2010: Teacher Workshop @ Gilmanton Elem, Gilmanton, NH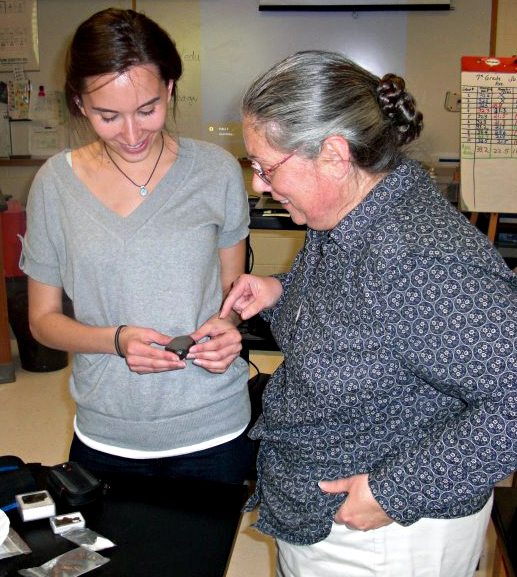 Carolyn shows teacher Mary Fougere what the inside of a typical meteorite looks like.
Credit: Carolyn Crow, UM
After visiting her old school on a recent trip home, Carolyn Crow facilitated a teacher workshop featuring several Discovery Program missions. She first reviewed Deep Impact results and how they influenced the DIXI science questions. Other activities included reviewing the mission timeline, websites and resources available as well as going over new SD-NExT activities: Comet Lingo Bingo and Seeing in 3-D: Stereo Pairs. Carolyn also brought along several meteorites since those are bits and pieces of asteroids (and maybe comets) that have crashed to the Earth's surface.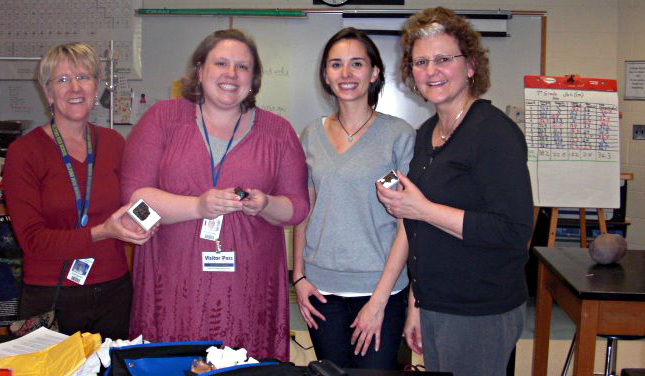 L to R: Polly Rouhan, Marylyn Salagaj, Carolyn Crow, Valorie Wright. Apparently holding a real space rock is much more exciting than holding a model of one (3-D model of the nucleus of Tempel 1 sits on the table in the background)!
Credit: Carolyn Crow, UM
24 Apr 2010: MD Day 2010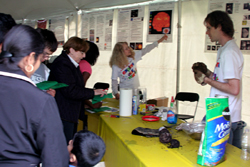 Dr. Ludmilla Kolokolova answers questions about EPOXI while Dr. Mike Kelley builds a dirty snowball comet.
Credit: Elizabeth Warner, UM
Science team members and associates Tony Farnham, Stef McLaughlin, Mike Kelley, Dennis Wellnitz, Mike A'Hearn, Tilak Hewagama, Tim Livengood, Casey Lisse along with Elizabeth Warner, and Naomi Lisse all participated in the 12th annual Maryland Day, a campus-wide open house showcasing the research and academic highlights of the departments and colleges. Team members demonstrated the "dirty snowball" idea of comets by building comets out of dry-ice, dirt, water, window cleaner and chocolate syrup. Other team members talked about the exoplanet observations. We all tried to keep up with the students and parents doing the Science (scavenger) Hunt!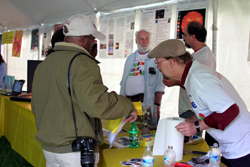 Dr. Dennis Wellnitz helps a parent with questions from the Science Hunt.
Credit: Elizabeth Warner, UM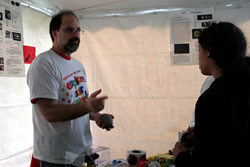 Dr. Casey Lisse discusses the EPOXI mission with UM undergrad Maria.
Credit: Elizabeth Warner, UM
16-17 Oct 2009: STEMapalooza Sows Seeds for Math and Science Careers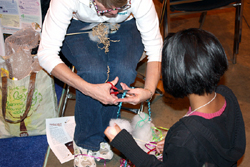 McREL EPO specialist demonstrates Comet on a Stick with a young student visitor.
Credit: McREL
Science, Technology, Engineering, and Mathematics (STEM) came together in Denver, Colorado on October 16-17, 2009 with more than 100 exhibits that featured "minds-on" interactive displays for a palooza - all out party and celebration of the science, technology engineering and mathematics fields: STEMapalooza!
McREL's Education and Public Outreach (E/PO) team highlighted three Discovery missions (Dawn, EPOXI, and Stardust-NExT) at a fun and exciting booth where participants had an opportunity to take part in a variety of hands-on, interactive activities.
The most popular interactive was Stardust-NExT's educational "Design a Satellite" interactive, designed by the people of Littleton, Colorado. And the booth couldn't keep up with the demand for the Discovery Space Thrills poster-one student even wanted the display poster! The Comet Chronicle was a big hit, too-featuring the differences between comets and cows, CAIs, missing comets, and CSI investigations on the collision between the Deep Impact projectile and Comet Tempel 1!
Approximately 10,000 participants-students, educators, business leaders-converged at STEMapalooza, a rousing initiation to the second annual event at the Colorado Convention Center, sponsored by the Center for Applied Science and Mathematics for Innovation and Competitiveness at the University of Colorado, Denver. Exhibits featured robotics, fast-track racing, gaming, film production, staging, rocketry and solar energy with the idea of creating opportunities for students to develop the knowledge and skills necessary to explore careers in areas that require math and science-the goal being to be competitive in a global society.
The STEM push is part of a nationwide effort, one that was recognized by President Barack Obama, who recently attended a similar event in the Washington, D.C., area.
Local event sponsors include federal agencies such as the National Institutes of Health, and companies, universities, colleges and school districts from throughout Colorado.
30 May 2009: Maryland's Place in Space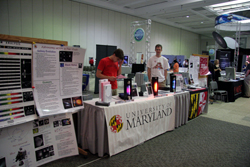 UM undergrad Ricky and postdoc Mike await the crowds of space enthusiasts!
Credit: Elizabeth Warner, UM
The UM Astronomy Department had a display themed "How We Know What We Know" at the Maryland's Place in Space event, a series of events hosted by NASA Goddard Space Flight Center (GSFC) and The Johns Hopkins University Applied Physics Laboratory (APL). Both organizations are recognizing their 50th anniversary in 2009. EPOXI project members Elizabeth Warner and Mike Kelley were on hand to talk about UM's role in EPOXI.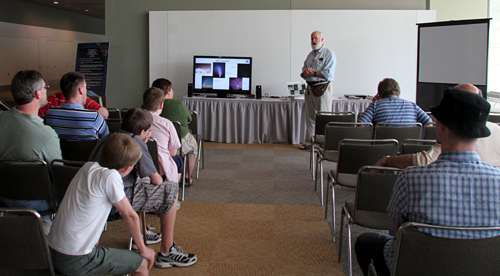 Dr. Mike A'Hearn, PI for EPOXI, talks about comets and the exploration of comets in a short presentation in the 'Science Cafe.'
Credit: Elizabeth Warner, UM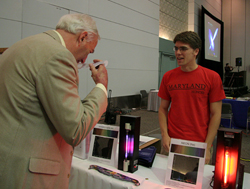 University of Maryland president Dr. Dan Mote stops by the display and takes a look. The glowing tubes are tubes of gas: hydrogen is on the left and neon is on the right.
Credit: Elizabeth Warner, UM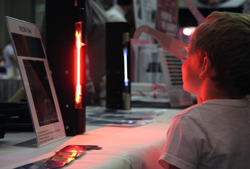 Children of all ages enjoyed looking at the glowing gas tubes (neon in this case) with the diffraction grating glasses and learning about spectra.
Credit: Elizabeth Warner, UM
24 May 2009: Balticon
Tim Livengood attended the Baltimore Science Fiction Convention (Balticon 43) over Memorial Day weekend and presented a talk on "Earth Through Alien Eyes", about EPOXI observations of the Earth.
25 Apr 2009: Maryland Day
Science team members and associates Tony Farnham, Lori Feaga, Lucy McFadden, Frederic Merlin, Jianyang Li, Jessica Sunshine, Tilak Hewagama, Drake Deming, Tim Livengood, Casey Lisse along with Elizabeth Warner, Carolyn Crow and Naomi Lisse all participated in the 11th annual Maryland Day, a campus-wide open house showcasing the research and academic highlights of the departments and colleges on the University of Maryland campus. Some of the team talked about comets and made dry-ice comets throughout the day. Other team members focused on the transiting exoplanet observations.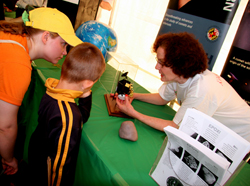 Dr. McFadden demonstrates the components of the Deep Impact spacecraft.
Credit: Elizabeth Warner, UM