Outreach
Family Science Night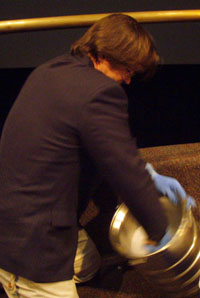 Dr. Tim Livengood mashes up some dry ice for use in a comet-making demo.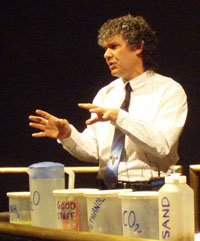 Dr. Jeff Goldstein prepares to mix up a homemade comet.
Family Science Night is a school field trip designed for families to the Smithsonian's National Air and Space Museum in Washington, DC. The program takes place after the close of normal Museum hours for up to 450 parents, students, and educators from area schools1. It's a family learning experience on space science subjects that are taught in the classroom. Adults do not participate as chaperons, but as parents, grandparents, aunts, uncles, and big brothers and sisters to the children. It is a chance for a shared, cross-generational learning experience in space science education. We encourage you to invite students, their extended families, and your colleagues and their families.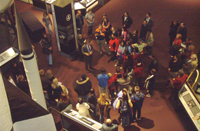 Attendees at a recent FSN get to explore the National Air & Space Museum after hours.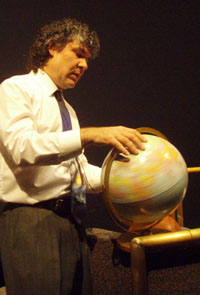 Dr. Jeff Goldstein demonstrates the Earth's rotation as he also spins stories about space science.
The centerpiece of the program is a presentation by a space science researcher who is passionate about the frontiers of exploration, and gifted at conveying that passion to audiences of all ages. The program is meant to provide a window on the nature of science and the lives of modern-day explorers, with special emphasis on not just what is known about the Universe but how it has come to be known. This approach serves to reveal the very personal means by which researchers ask questions of the world, empower themselves to create a pathway to an answer, and hopefully bear witness to something wholly new to the human race. It is an approach that gets young and old alike excited about science, and helps to inspire the next generation of scientists and engineers.
1Teachers in the Washington metro region: Would you like your school to participate in one of these nights? Download the packet.
---