News: 'Hitchhiker' EPOXI: Next Stop, Comet Hartley 2, 2010.06.28
Press Release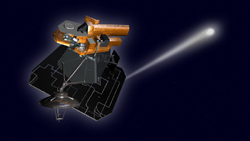 Click for larger image.
NASA's Deep Impact spacecraft flew past Earth on June 27, 2010, to get a boost from Earthís gravity. It is now on its way to comet Hartley 2, depicted in this artistís concept, with a planned flyby this fall.
Credit: NASA/JPL-Caltech
NASA's Deep Impact/EPOXI spacecraft flew past Earth Sunday (June 27) at approximately 3:03 p.m. Pacific time (6:03 p.m. Eastern time), as planned. The spacecraft is now on its way to its appointment with comet Hartley 2 this fall. The members of the EPOXI team at NASA's Jet Propulsion Laboratory in Pasadena, Calif., are currently working with data returned from the flyby to refine the spacecraft trajectory estimates.
EPOXI is an extended mission of the Deep Impact spacecraft. Its name is derived from its two tasked science investigations -- the Extrasolar Planet Observation and Characterization (EPOCh) and the Deep Impact Extended Investigation (DIXI). On Nov. 4, 2010, the mission will fly by Hartley 2 using all three of the spacecraft's instruments (two telescopes with digital imagers and an infrared spectrometer).
The University of Maryland, College Park, is the principal investigator institution. JPL manages EPOXI for NASA's Science Mission Directorate, Washington. The spacecraft was built for NASA by Ball Aerospace & Technologies Corp., Boulder, Colo.
For information about EPOXI, visit www.nasa.gov/epoxi or epoxi.astro.umd.edu.
Priscilla Amador / Jia-Rui Cook
Jet Propulsion Laboratory, Pasadena, Calif
818-354-1357 / 354-0850
priscilla.r.amador [at] jpl [dot] nasa [dot] gov / jia-rui.c.cook [at] jpl [dot] nasa [dot] gov

RELEASE: 2010-216
Source: JPL, Portal