Carolyn Crow
Carolyn Crow
Graduate student, UCLA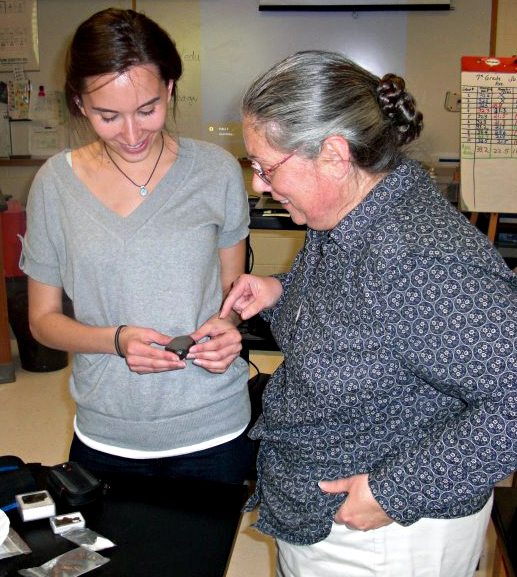 Carolyn shows teacher Mary Fougere what the inside of a typical meteorite looks like.
Credit: Carolyn Crow, UM
What's the coolest thing about EPOXI?
EPOXI has some amazing science coming out of it, but one of the coolest things is that we repurposed the Deep Impact spacecraft to complete a new mission. Reduce, reuse, and recycle!
Why do you like working at the University of Maryland? UCLA?
I worked at the UMD for the past two years (2008-2010) and have just started graduate school at UCLA (Fall 2010). I loved working at UMD because of the supportive and collaborative environment throughout the entire Astronomy Department. The Earth and Space Sciences Department at UCLA has a similarly atmosphere where they push their graduate students to expand their horizons to achieve their goals.
What is your job on the EPOXI mission?
I used EPOXI images to look at the colors of the Earth, Moon, and Mars to see how they would appear as extrasolar planets. I also looked at the colors of all the planets in our solar system to explore the possibility of using colors to characterize extrasolar planets.
How did you end up in Space Science?
I wanted to be a pilot or aerospace engineer since I was very little and started at UMD with that intention. I soon discovered that the engineering school wasn't the right fit for me, so I switched to math, but that was boring. Luckily I signed up for Intro to Astronomy and found it fascinating. It took the math and science I loved and applied them to something interesting. I guess it probably also helped that my TA was from the next town over back home.
What do you do in your spare time?
I think the question should be what don't I do? One of my big passions is ice hockey, which I've been playing since I was 13. I also like hiking, being outside, museums, traveling, listening to jazz, cooking ... I have been lucky enough to live in two cities that have allowed me to partake in a wide variety of fun activities.
Who in your life inspired you?
All the women in my family have been big inspirations for me. They all have followed so many different paths and been successful in everything they put their mind to. I learned at a very young age that I could be whatever I wanted to be when I grew up and to always follow my dreams.
What is one yet-to-be achieved life goal?
Getting my CD license to drive a tracker trailer. Just because. There are also a bunch of places that I want to travel to still.
Were you science-oriented as a young person?
Oh yes, for sure.
What was your favorite book as a young person?
I read The Chronicles of Narnia a bunch of times when I was younger. We always had our heads in a book especially in the car because we lived out in the country, so it took a long time to drive anywhere.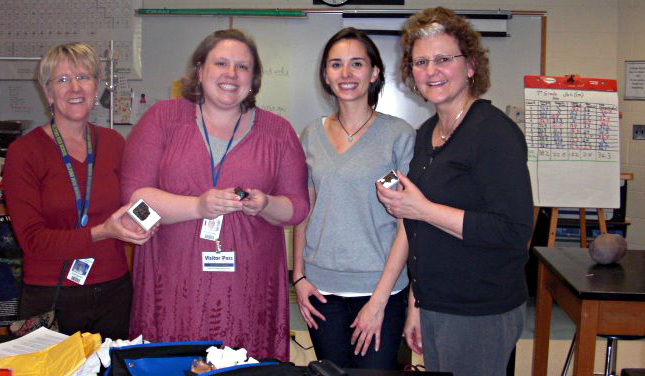 L to R: Polly Rouhan, Marylyn Salagaj, Carolyn Crow, Valorie Wright. Apparently holding a real space rock is much more exciting than holding a model of one (3-D model of the nucleus of Tempel 1 sits on the table in the background)!
Credit: Carolyn Crow, UM
What did you want to become when you were young?
When I was really little I wanted to be a veterinarian, but that soon changed into pilot, astronaut, or aerospace engineer.
If you weren't working in space exploration now, what might you be doing?
This is a tough question since there are so many options. Probably doing something in one of my other passions: playing/coaching hockey, hosting a travel show, costume designer, something in natural health or yoga.
[Carolyn's outreach report: 13 May 2010: Teacher Workshop @ Gilmanton Elem.]