Gallery
Remember Remember the 4th of November - UK Schools and Amateur Astronomers Using Research Grade Telescope for Historic Comet Flyby
by Nick Howes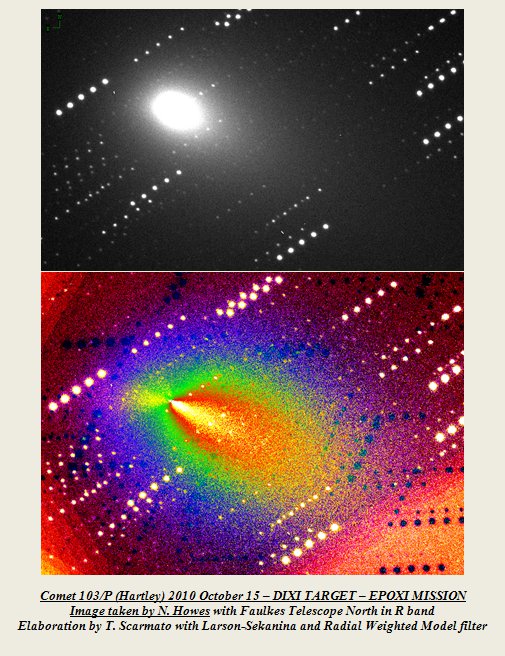 On November 4th this year, the NASA Deep Impact spacecraft will fly by comet 103P/Hartley 2, a small but increasingly active periodic comet. This is only the 5th mission in history to observe a comet nucleus close up.

The team at Faulkes Telescope Project along with UK schools and amateur astronomers will be devoting the whole of November 4th on Faulkes North (located in Hawaii) to getting as many observations of the comet as they can to not only support the space mission, but also allow Faulkes users to more accurately deduce the rotation speed of the comet. Recent estimates from the professional community and calculations by Nick Howes and Toni Scarmato, put the comet's rotation rate between 16.6 and 19.59 hours. BBC Television's Sky at Night show will also be featuring the comet, and Nick, who writes for Astronomy Now magazine in the UK will be using his and school observations in a forthcoming series of articles.

Comet 103/P Hartley 2 is a small periodic comet with an orbital period of 6.46 years. It was discovered by Malcolm Hartley in 1986 at the Schmidt Telescope Unit in Siding Spring, Australia very close to the location of the 2 metre Faulkes South telescope. Its diameter was initially estimated to be 1.2 to 1.6 km, subsequent observations by Spitzer placed it closer to 581m across, but recent observations by the Hubble Space Telescope, which has a primary mirror close to the size of the Faulkes Telescope, puts it back in the region of 1.2km.

This comet has recently undergone an outburst, which was detected by amateur astronomers Toni Scarmato and Nick Howes using data from both the Faulkes North telescope and their own backyard observations. More interestingly, the comet is showing itself to be one of the most active small comets they have ever seen and also boasts a coma exceeding 1 degree in diameter, and it's still growing.

The data and images are being added to the Amateur Observers' Program (AOP) and Facebook EPOXI Mission fan page, and undergoing additional analysis on the magnitude and coma/tail structure using rotational gradient processing techniques.

This is an amazing project involving UK schools and amateurs as they have a chance to image a comet which will undergo global media attention on Nov 4th, and also provide NASA and the EPOXI science team with high resolution data from a world class telescope.

"If we train Faulkes North on this object for the entire day on Nov 4th, we'll get some fantastic data and also be able to make a huge animation showing the comet moving across the sky" says Nick. "Our data is also being looked at by various comet experts around the world, who are getting valuable information on the comets inner coma structure."

While there will be no fireworks during this flyby like there was during the Deep Impact mission in July 2005, make no mistake, it will be just as exciting with surprises that you'll not want to miss on the day before the UK celebrates Bonfire Night.

Image Credit/Copyright: Nick Howes/Faulkes Telescope/Toni Scarmato (used with permission)