Beth Sholes
Beth Sholes Honored by Society of Women Engineers with Resnik Challenger Medal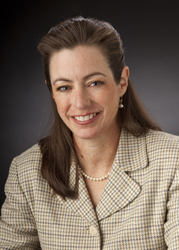 Click for larger image.
Credit: Ball Aerospace & Technologies Corp.
Ball Aerospace Principal Propulsion Engineer Beth Sholes, currently managing EPOXI's propulsion operations, has won the prestigious Resnik Challenger Medal. The Society of Women Engineers established this medal in 1986 to honor Dr. Judith A. Resnik, NASA mission specialist on the ill-fated Challenger space shuttle flight of January 26, 1986. The medal is awarded "only as merited for visionary contributions to space exploration."
The award recognized Sholes for her propulsion analysis and design on several unique missions: the Kepler Space Telescope, which is making history with its search for Earth-like planets; CloudSat, which is an Earth-observing satellite that successfully flew in close formation with five other satellites; and Deep Impact, which burned fuel so efficiently that nearly 50 percent of the fuel remained after the mission. The high amount of remaining fuel contributed to NASA's decision to proceed with EPOXI.
As EPOXI's propulsion engineer, Sholes monitors the spacecraft's propulsion system. This system is used along with the attitude control system to keep EPOXI correctly pointed with respect to comet Hartley 2, to Earth for communications, and to the Sun for power and attitude orientation. The propulsion system enables the spacecraft to complete the fine dance of maneuvers required to successfully rendezvous with comet Hartley 2. Sholes will officially receive the medal at the SWE annual conference, to be held Nov. 3-6, in Orlando, Fla.